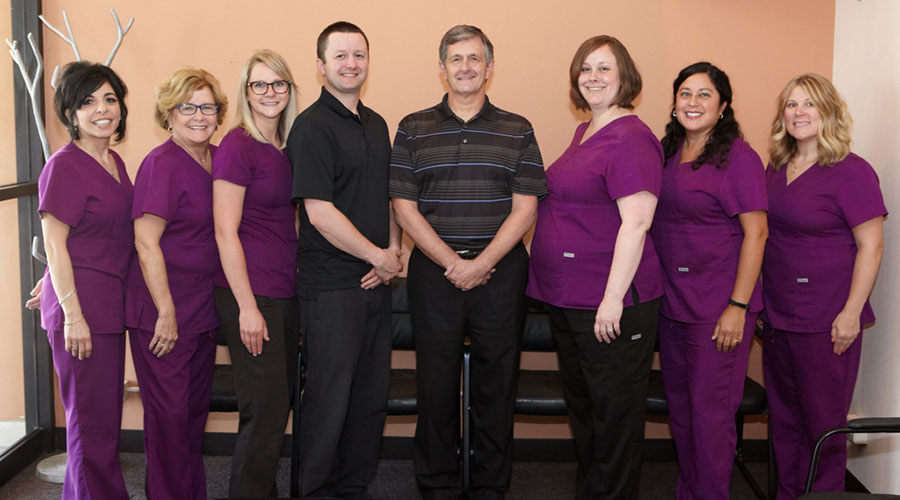 We recognize that all of our patients are unique and deserve to receive orthodontic care that reflects their individual needs. Our experienced and talented team is committed to working with you and your family to create a comfortable, stress-free, and rewarding orthodontic experience every time you visit our practice.
We are pleased to welcome you and your family, and we look forward to working with you.
---
Melissa
Orthodontic Assistant
I have worked in the orthodontic field for more than 26 years with Dr. Schuberth, assisting him with patient care and ensuring that our operatory runs smoothly. Since I've worked here for so long, I've had the pleasure of seeing so many children grow up in our practice. Some have even brought their own children to see us! Whether patients are children or adults, I love the look on their faces when their braces are removed.
I have been married to Marc for 20 years, and have two children, Isabel and Ryan. In my free time, I enjoy golfing and watching my children play volleyball.
---
Connie
Treatment Coordinator
I joined the team at Smiles by Schuberth in 2007, and from the moment I walked in, I knew that I would be working with family. I get to know our new patients and assist Dr. Schuberth in educating and welcoming them to our office. I love working with children and helping them understand their treatment and eliminate any fears. It is rewarding to see so many of them grow into young adults. It is also amazing to see the transformations Dr. Schuberth accomplishes with such patience and gentleness.
---
Erik
Lab Technician
I've worked at Smiles by Schuberth for 8 years, fabricating retainers and appliances for our patients' treatment. This office is so much fun! Not only do I get to joke around with my co-workers, I get to do so with my family: my father Dr. Schuberth and my sister Laura. We are constantly having fun and laughing together.
When I have free time, I enjoy golfing and spending time with my goddaughter and nephew.
---
Susan
Scheduling Coordinator
After 17 years working side by side with Dr. Schuberth, we are sad to see Susan go. She will be enjoying her time in retirement, with her husband, sons, and grandchildren. She was a big part of this office and will be missed.
---
Laura
Clinical Assistant/Hygienist
Having an orthodontist for a father instilled in me the importance of a beautiful smile from a very young age. Now that I work with him, I see the effects a smile has in our patients' lives daily. I love our amazing patients and work with my dad to make sure that each person achieves a smile that is healthy and beautiful.
At home, I have a dog named Carmen and three cats, Rue Rue, Hank, and Kevin. In addition to my work as a hygienist, I also work part time at a furniture restoration warehouse where I restore antique furniture and upholstery. I love it!
---
Katie
Treatment Coordinator/Scheduling Coordinator
I began working with Dr. Schuberth in 1998. I am one of the first people to meet new patients and welcome them to our office. During their initial consultation, I go over Dr. Schuberth's treatment plan and discuss their financial options. I have the privilege of seeing patients' treatment progress from beginning to end, and there's nothing better than seeing the look on our patients' faces when they see their new smiles for the first time.
My husband Derek and I live in Lemont with our two daughters, Kylie and Taylor. We love to travel and be outdoors.
---
Kristy
Insurance Coordinator
I began my career in 2000, working for Dr. Schuberth as an assistant and helping in the lab. After 12 years of orthodontics I made a move to oral surgery. When I started my family, Dr. Schuberth graciously had me back on his team, and now I wear many hats. Whether it's insurance, assisting, or scheduling, I'm trying my best to keep the office running smoothly. I love that orthodontics incorporates hands-on work, with one-on-one personal contact with patients. Our patients are a fun group, and I love watching the kids grow into young adults.
My husband Dennis and I two sons, Zeke and Xan. We also have two furry children, Ajax and Delilah. My free time is spent going on walks, cuddling with the family, and remodeling my home as new ideas come to light.